Training of trainers at the University of Gulu in Uganda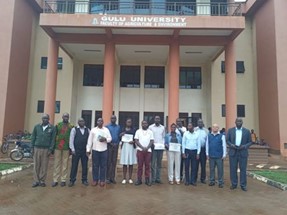 21-23 March 2023 – The objective of the training was to provide training to trainers on Mini-grid Network Systems for the University of Gulu, Uganda.
Sessions delivered during 3 days of in-person training:
Module 1: Technical system design and uses of software
Module 2: Selection, procurement and installation
Module 3: Operation, Maintenance and Monitoring General: Training delivery methods
A total of 12 participants took part in the training. Students, lecturers and teaching assistants from Gulu University took part in the training. The majority of participants had hands-on experience in solar PV systems like solar home lighting systems and stand-alone systems. All participants had the expectation to learn and gain more knowledge on solar-based mini-grid systems design and installation and O&M best practices.